For 4 to 11 year olds :
the children's club laughter & fulfillment first!
A world of play and awakening with new friends!

Our Children's Club (known as the"mini-club") is open for half-days from the opening of the season.
Our professional animators offer small playful, creative, sports, manual and/or cultural workshops to the children. Their vacations combine discoveries, modes of expression, games and sharing with their new friends. The activities take place either in the air-conditioned room, or on the adjoining shaded grounds, or within our 10 hectares. Sometimes the beach also becomes a playground, for example during the banana pull, an activity carried out with the participation of parents.

A program of activities is posted each week, the children choose their activities and their parents register them for the desired half-days (limited number of participants).

A playground adjacent to the mini-club is open all day for free access. Swing, slide, turnstile… in a colorful and fenced area, under the supervision and responsibility of parents.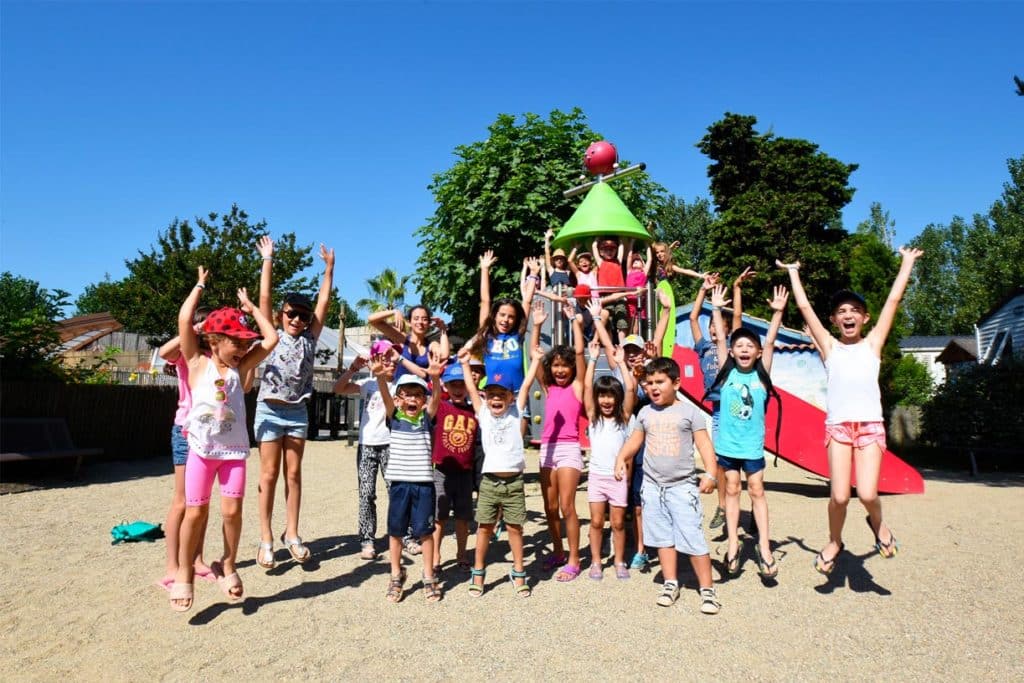 ---
For 12 to 17 year olds :
the teen club living together !
Adolescence is often punctuated by meetings and the sharing of good times with friends. So come and meet new people during your stay, and experience unforgettable vacations on the Mediterranean coast.

The Vias Teenagers' Club is run by a professional, who will turn your stay into a real moment of happiness to share. Every afternoon (in July and August), you'll be able to take part in a wide range of original sporting activities, including bubble soccer, archery and banana boat towing. Not to mention team challenges (volleyball, water polo, etc.) and artistic and creative activities such as the organization of shows or the production of a video.

The Teen Club has a large air-conditioned space that is perfectly adapted to young people. You will find a ping pong table, a table soccer and many other facilities.

Each week the schedule of activities varies, the opportunity for young people to make new friends at Cap Soleil.
---
A vacation to suit you
finally a moment for you!
Joy and good humor at the rendezvous each day in the green setting of CAP SOLEIL!

As soon as the season opens, our team of professional entertainers (whose numbers vary according to the season) offers you a weekly program of sports and leisure activities to give you a break from your daily routine.

For many, it will be the opportunity to discover a sport that seemed inaccessible until now (archery?), to finally take care of your body (aquagym?, zumba?), of your mind (yoga?), to try those dances that have always attracted you (salsa? madison?)…. Challenges and tournaments will be an excellent stimulus (petanque, volleyball, soccer, olympics…) before ending with the inevitable aperitif games.

With your family or friends, in addition to our aquatic areas, you will have access to our other facilities: tennis court, volleyball court, basketball court, soccer field (city sports), ping pong tables, outdoor fitness equipment, bowling alley…

Not to mention our fitness room accessible to those over 18 years old

So don't forget sneakers, shorts, tee-shirt! And your dynamism!
---
Until the end of the night
Laughter and songs!
Our entertainers will also brighten up your evenings!

A program of evening activities will be elaborated each week, adapted to the holidaymakers of the moment. Out of season, games, dances, karaoke, some concerts animated by professionals.

During the school vacations, shows by well-known artists (or sometimes by your animators) will brighten up the beginning of the evening. Young and old will succumb to the tricks of a magician, to the mysteries of a master of hypnosis; they will reveal themselves during a karaoke before going wild during the foam party. The cabaret show will take up the universal standards and the dance floor will welcome young and old until late in the starry night, until everyone goes back to bed in the comfort of his mobile home in Vias Plage.

A MUST: several times a week, in season, the aqua park, the campsite's water park and the balneo area will extend their opening hours, offering you memorable evening events. Palm trees, animals, pools and slides, enhanced by a studied lighting, will participate in romantic memories, even romantic!